@mercuriobryan @snlester … Still, implementing legislation likely to go through on Govt. numbers (with opposition support in Senate).
@snlester @mercuriobryan JSCOT (Committee) approved the draft in early Sept., Customs Bill (KAFTA) passed late November.
No economic liberal, still Clémentel fought to open Atlantic trade, investment. Friend of Rodin & Monet, he wrote an opera with Canteloube.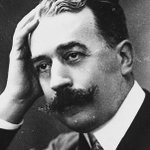 Charismatic, energetic Etienne Clémentel, many times Minister, Senator of France & founding President of@iccwboopic.twitter.com/ffCHV64sfII