Adblocking? To the extent it affects publishers' revenues, I predict more on-line content in form of videos (damnit!):on.ft.com/1iZ6fli
Well… (1) who do you think is paying the duties now? (Prob. not NZ exporters). (2) Begs q's about consequent changes in market shares.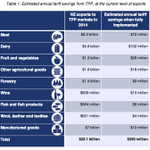 #TPP data like this will be everywhere in the next few days. But numbers in the 3rd column probably rubbish. Why? pic.twitter.com/Np0QUjETW2
@kim_weatherall @NGruen1 Breeches the 'do no harm' rule. Even 50 years (TRIPS) is unjustified by the social benefit of © monopolies.
Large trade agreements like #TPP take longer to build than super colliders. Impacts just as hard to analyse. Most stuff today probably wrong