Gary Horlick::why does it cost me $6 to send a parcel to Los Angeles but $25 to send it to Toronto (1500 mi closer)? Borders are too costly!
Jim Bacchus:: a Bali agreement could be a model for future WTO agreements. Doing what we can on e.g. trade facilitation is not 'minimalism'
Jim Baccus:: We expected the (1994) Uruguay Round agreement to be the last 'round', followed by continuing smaller plurilaterals w'in WTO
WTO DDG Karl Brauner at Bali Bus. Forum:: Bali is not about 'saving the WTO' but about growing trade, jobs, welfare.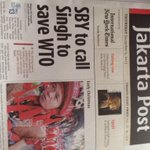 Try this again. RT @pwgallagher: High drama in Bali: SBY to the rescue… pic.twitter.com/i8V5Um7aTD
High drama in Bali: SBY to the rescue…
@SimonEvenett I seem to recall that India won the weasel-term 'explicit consensus' rule as a reward for signing up at Doha; blew up Cancún.